Thursday, January 15th, 2009 by Mark | Posted in
Unconventional Thinking
|
Comments
I watched an interview recently with Ted Turner, the odd-ball genius who built a media empire, married a movie star and owns more land than anyone else in North America.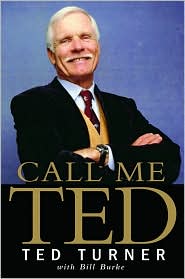 He is one of the rare ones who speaks insanity and exceptional insight in the space of a single sound bite. As an example of the latter, he recounted his father's advice that he should aspire to something so big in his life, that it would be near impossible to accomplish it. That way, he would always have a burning goal to drive his ambitions.
With that epiphany alone, he knew something most don't. In my business and personal life, I have had the priviledge of meeting and working with a number of truly exceptional people. Gates, Icahn, Clark Clifford, Bloomberg, Treasury Secretary William Simon. All have known a set of facts, and live by them, that I believe, taken together, make exceptional people, exceptional.
Here is what they know:
* Life is short and long. Too short to worry about how long you will live. Long enough to accomplish great feats.
* Whatever you are doing well, you aren't doing well enough. It is precisely those initiatives you are truly skilled at, that provide the greatest pathway to exceptionalism.
* It is always stupid to hold a grudge. It is always smart to have a dream.
* You must face your worst fears and in the process turn them into adventures.
* Risk is an essential element of businesses well-built and lives well-lived.

* Whenever you feel that everything is in place, the planets are aligned, all is good–the chess pieces will move while you are sleeping and you will need to address a scenario you least expected.
* A great education is a lifelong process that truly begins when the school years are over.
* You have less than 10 genuine friends.
* A sense of wonderment is among life's most valuable assets.
* You cannot get "big" thinking small and you can't ever think "too big".
* You need to be your own best advisor. All of the others will disappoint you.
* What matters infinitely more than what you know, is what you don't know.
* Ninety percent of what others tell you, the "facts" they present to you, are not true.
* In order to become a good skiier, you must be willing to fall. And fall often.
* Hope does spring eternal. And usually disappoints.
* "Why" is the most important word in the dictionary.
Their financial, scientific, artistic skills and talents–what they are best known for–is not as important as "What They Know".
Mark Stevens
CEO
Email This Post