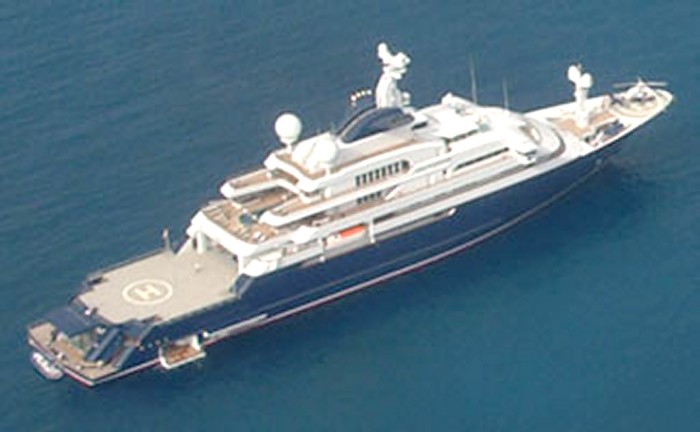 So I am sitting here luxuriating in a cool-o-rama suite in a drop dead gorgeous hotel on the island of Antigua. And outside my door, a few hundred yards away, floats Bill Gates' mansion of a yacht, three times the size of a Navy carrier. Dining on Asian fusion cuisine in the hotel bar, he looks about as happy as the living embodiment of the Federal Reserve can be.
Good time to flash back 30 years ago when the supreme geek was the last guy on the whole, total, complete, absolute planet of a world any self-respecting prom queen would shake her ass at. Oh my God, just glancing at Gates would be reason enough to be expelled from the Club of The Gorgeous.
Okay, aged prom queens. What would you do to be the First Lady of the aircraft carrier if Melinda decided to run off with Ashton Kutcher? Don't even bother answering. I know. You know. Bill knows in spades.
Newton revealed that every action has an equal and opposite reaction. This is the most important business (and personal life) principle I have ever learned. When Microsoft had 3,000 employees and Gates was still relatively obscure, I spent a day talking with him about his vision. Even then the prom queens were confident they were the chosen. The blessed. The winners.
Life has a way of reversing the order of things. Of inverting the hierarchy. Of transforming yesterday's corporate czars into has beens. Of shrink wrapping once powerful and profitable companies sitting on top of the world and tossing them into dumpsters.
But it's not really life that does it. It's all of us ourselves. Once we get complacent as managers or entrepreneurs, and fail to consciously question what we do… Once we think we are soooo perfect that the curve balls can't hit us in the face.
We are on the way to a bad surprise. Ask Newton, Ask the Prom Queens.
Mark Stevens
CEO
OK all you ex-Prom Kings & Queens tell me what you think…